From Praia do Sol, Ericeira Portugal
Paradox: Ah… the counterintuitive ideas that are so powerful. Slow down already. Everyone is moving so fast, so fast. And thus missing out on their power.
DON'T KNOW WHAT IS BEING TALKED ABOUT? Click HERE!
From Paradox
The Emptiness of Emeric's Mind
Ericeira Portugal
To creating miracles,
Emeric Damian Thorpe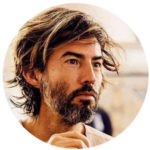 ---
Taking Your Time To Speed Up
Audio 9:
A Way Of Seeing Yourself…
There's no doubt that the mind will settle into an emptiness, but when creating for a particular outcome, seeing ourselves in a particular light matters.
Audio 10: